ProVintage Bass
HEAR THE TONE
In the past few years Xotic's reputation as an elite instrument builder has been affirmed, as the new lineup of Leo-inspired guitars and basses have been endorsed by top players. The new ProVintage 5-string series brings Xotic's acclaimed craftsmanship to a mid-price instrument.
More about ProVintage Basses
The XJPRO-1 5-string basses are assembled in Indonesia, then shipped to our factory here in Los Angeles, CA to have the neck Plek'd and given its final setup and inspection.
Inspired by its predecessor, the XJ series, this bass features a double-cutaway Ash body; a 34-inch-scale maple neck with 22-fret board; and Raw Vintage USA hand wound pickups.
Our office in Japan will assist you for all inquires for XP-1T, XJ-1T and XPJ-1T basses. Please contact the following: Prosound Communications Japan Att: Yuki Kurokawa
[email protected]
Introducing the XJ-ProVintage Series
I don't have to work hard – I just play it. Nice and balanced and not too heavy. It's a great feeling instrument.

For the player who is seeking that perfect balance of punchy low end tone with all the attributes of a boutique setup and feel without the huge price tag - look no further than Xotic ProVintage Series Basses.
Combining countless hours of research as well as valuable input from customers, profession players and builders from all over the world, we have crafted a bass with a well-balanced tone and feel that players have come to expect from Xotic basses.
The ProVintage Series basses, inspired by the Xotic XJ Series, feature a structurally balanced neck coated with an oil finish for reliable intonation and a comfortable feel.
Additionally, the ProVintage Series basses utilize the same onboard preamp electronics that come in all Xotic Basses for a selection of punchy vintage-modern tones while each pickup is meticulously hand wound in our shop and specifically voiced for these basses.
Get the Low Down
ProVintage Features:
Raw Vintage Pickups
Made In USA
Raw Vintage Pickups are the Heart and Soul of the ProVintage Series.
Hand wound in Los Angeles, CA, these pickups were voiced specifically for ProVintage Basses to provide warmth and clarity to every note.
Fitted with wooden covers for a modern look, these pickups shine when laying down the low end on stage and in the studio.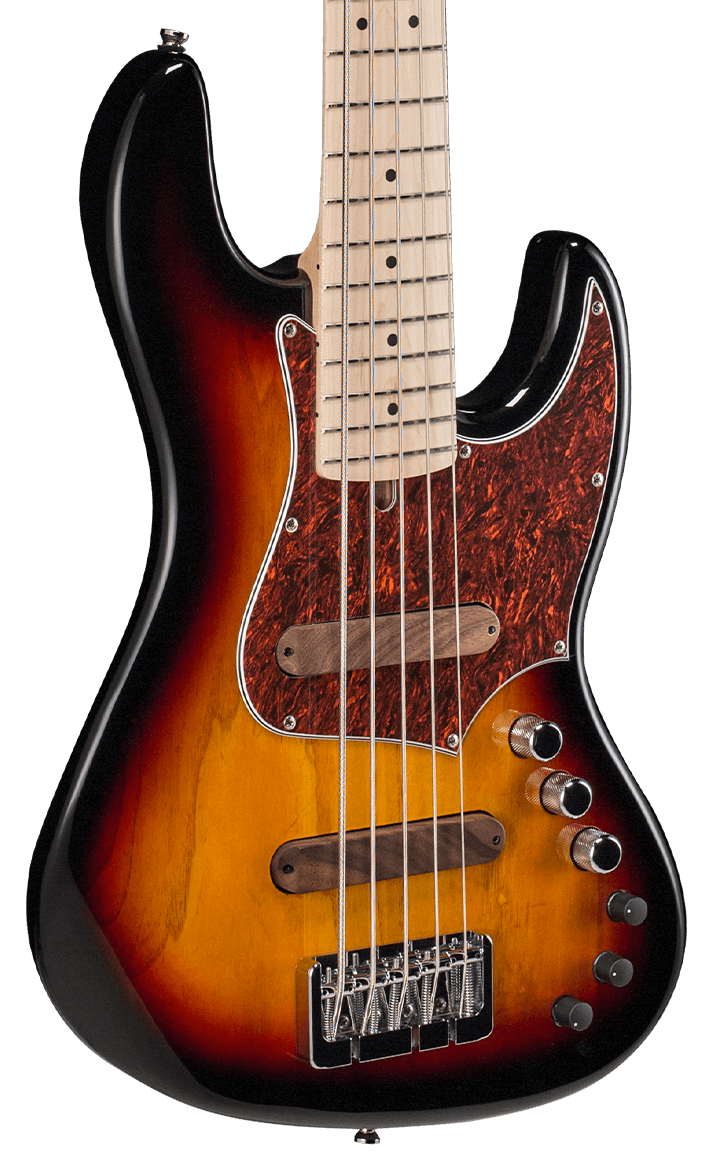 Electronics Package
Finally, the electronics package is where the ProVintage series shines.
We equip the XJPRO 5-string with the same electronics that come appointed to all Xotic basses.
Volume, tone and balance (panning between pickups) are the three main control knobs. Pull the volume knob up for a passive system or leave it down for an active system that includes a powerful 3 band EQ. The bass also comes equipped with Raw Vintage USA JB-5 pickups hand wound in Los Angeles and fitted with wooden covers for an elegant look.
The electronics package on the ProVintage is where things get even more interesting. The bass is fitted with two single-coil pickups with elegant wood covers. You get three familiar controls—chrome knobs for volume, tone, and balance (panning between the pickups)—but also a novel choice between active and passive systems.
Pull the volume knob up for passive operation, which is dead quiet. When the knob is down, the active side is on, bringing online a powerful 3-band EQ (via three black knobs) and a substantial volume boost over passive.
---
Features at a glance

Wooden pickup covers
Hand wound Raw Vintage USA pickups specifically voiced for ProVintage Basses
Active/Passive Xotic Onboard Preamp with 3 band EQ
Plek'd, completed and inspected at our shop in Los Angeles
Hipshot Ultra Light tuners and Hipshot B-Style bridge
Easy access battery box
XJ-ProVintage Series Specs:

Body Wood:

Ash

Color:

3 Tone Burst

Neck Wood:

Maple

Fingerboard Wood:

Maple

Number of Fret:

22 Frets

Fret:

Nickel/Silver Medium Jumbo

Radius:

10R

Grip Shape:

D-Shape

Scale:

34"

Thickness 1st - 12th:

.830 - .930

Position Mark:

Black

Nut:

Bone

Nut Width:

1.85" / 46.99mm

Neck Pickup:

Raw Vintage JB-5N + Wooden Cover

Bridge Pickup:

Raw Vintage JB-5B + Wooden Cover

Control:

1 Volume, 1 Balancer, 1 Tone, 3 Band EQ

Preamp:

Xotic Preamp

Tuner:

Hipshot Lisenced Ultralite

Bridge:

Hipshot B-Style

Bridge Saddle Spacing:

18mm

Pickguard:

Brown Tortoise

Battery Box:

Gotoh 18V